Scope for Digital Co-operation in Greater Manchester
Posted on:

28 July 2019

By:

Graham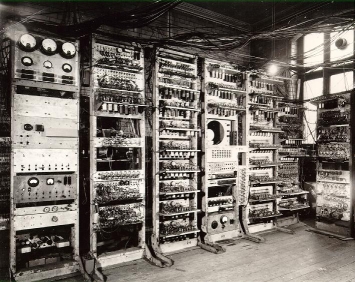 Spurred by Mark's post setting out his thoughts on Business Development for the Greater Manchester Co-operative Commission, likewise a few weeks earlier, on June 28, I was fortunate to be invited to give evidence to the Commission on their 'Digital' theme. It's a really broad area to cover in the few minutes that I had to speak to the commissioners, so I tried to focus on some specific suggestions in just three areas that could, if taken up in the final report that the Commission will produce later in the year, have a substantial impact on the profile of Greater Manchester as a city region that is at the forefront of what's happening in the context of digital co-operation globally.
These are the notes that I spoke to, and which I submitted at the time (I've made a few edits here and there for readability in the context of this blog post).
A few points by way of context
"Digital" is ubiquitous. Digital tech pervades many aspects of our lives, and this is an accelerating trend. So, while a focus on digital is increasingly challenging, it is also increasingly important. The vast majority of the digital technologies that we all use and interact with day to day are owned and controlled by private corporations, some of whom are very large and have significant impacts on local economies.
Frequent and ongoing major data security breaches, where potentially sensitive personal data is exposed or falls into the hands of bad actors, and the monetisation and potential misuse of personal data without explicit consent has brought the issue of trust to the fore.
If the role of technology in our society is to be beneficial it has to be trusted. And yet the evidence seems to show that many of the corporations that own and control the technology are not worthy of our trust. Perhaps we can only place our trust in technologies that are collectively owned and controlled?
The internet is is a hugely democratising force. It is inherently co-operative in it's nature, enabling individuals to connect and collaborate with very low transaction costs. The technology offers massive potential for co-operation.
Platform Co-operatives
The idea of so-called platform co-operatives – digital marketplaces democratically owned and controlled by their users – was born largely as a response to the very rapid rise to market dominance of a number of well-known platform businesses (e.g. Facebook, Uber, Airbnb, Amazon) where it became clear to observers that these operations, fuelled by vast sums in venture capital, were potentially highly damaging to local economies as small local providers could not compete, and the businesses were not contributing to local tax revenues.
Digital platforms have become a common business model in recent years, and lend themselves to a co-operative model of ownership and control. Some examples of specific opportunities where Great Manchester could potentially support new initiatives:
These are just some relevant examples. The model is widely applicable.
A successful platform co-operative needs access to digital development skills. While potential founders may have these skills themselves, it's not always the case, so ready access to a pool of digital developers could be a very powerful asset in supporting rapid prototyping and validation of platform business models. As an already established centre of digital skills Manchester could become a centre for platform co-operative development/incubation.
The Platform Co-operative Consortium was established to research and support work in this field. Currently centred in New York, it is a global network, with current conferences happening in New York and Hong Kong. and has recently established the Institute for the Cooperative Digital Economy (ICDE). Greater Manchester, with its proud tradition at the heart of the global co-operative movement, and its strong academic base could become the European centre of the consortium, provide a UK centre of excellence as part of the ICDE and host a conference alongside New York and Hong Kong, working in partnership with local organisations such as the Co-operative College and Co-operatives UK. Could Manchester become a centre of excellence in trustworthy technology?
Shared Digital Assets
Billions in public money are being spent on the construction of new digital infrastructure, enabling new future-proof fast optical fibre connectivity across the UK. And yet the public sector, local authorities and the communities they serve, often don't appear to to have any stake in the resulting infrastructure. There are some notable – and co-operative – local exceptions:
B4RN is a successful trailblazer in rural community-owned fibre connectivity, just up the road in Cumbria. Is there scope for similar community-owned co-operative models in parts of Greater Manchester?
TDIC (now Co-operative Network Infrastructure) in Ashton under Lyne - equitable access to shared digital infrastructure and digital hubs/exchanges are a huge opportunity to decentralise and grow the digital economy. Small, perhaps community-owned facilities with fast access, partnering with the private sector using co-operative models, keeping a public sector foot in the door and a voice for the public/community interest.
Upcoming we are seeing the rollout of 5G networks - which will be reliant on on use of public assets - street furniture, public buildings, etc, for the siting of antennae and other infrastructure. Could the public/community have a stake in these networks?
What are the plans for a smart energy grid across Greater Manchester, enabling fair and open sharing/trading of energy resources? Are there opportunities for a co-operative model? With highly successful organisations like the Carbon Co-op (https://carbon.coop) already driving the green agenda across Manchester, why not?
Co-operative Digital Start-ups
Manchester is already a strong centre for digital businesses. The overwhelming majority of tech start-ups rely on venture capital, a funding model that doesn't fit well with co-operative models. And yet the evidence from groups like CoTech – the UK network for employee-owned tech co-operatives – suggests not only that tech workers find co-operatives a natural fit with the way they work, but also that worker co-operatives in the tech sector can be highly successful businesses and great employers.
What's needed to spark and support the growth of digital co-operation across Greater Manchester?
A focal point in the city region, where individuals and business can access information, advice, and support (both a physical front door and an online service)
Access to seed funding/incubator/accelerator type services, where ideas can be tested and validated at relatively low risk.
Access to patient capital in support of the co-operative business model to fund larger start-up and scale-up investments.
You can submit your own evidence to the commission here. Deadline 1st September 2019.
The photo is of the Manchester Mark 2 by Source, Fair use, Link. The Mark was one in a series of innovative computers developed between 1947 and 1977 by a small team at the University of Manchester. Lots more info in the Wikipedia article.