Co-operative Development in Greater Manchester
Posted on:

20 July 2019

By:

Mark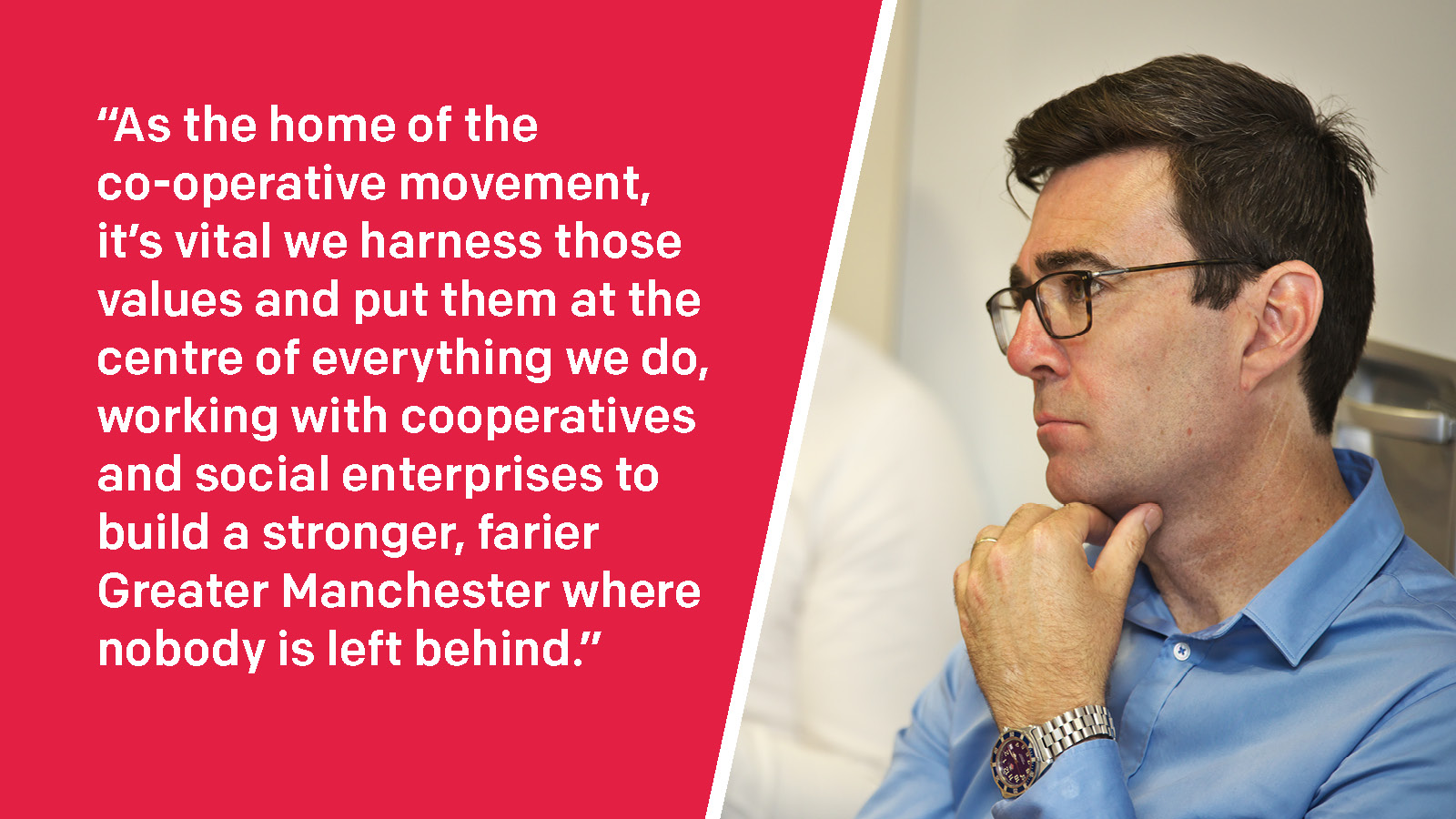 Mark Simmonds of Platform 6 recently gave evidence to the Greater Manchester Co-operative Commission as they considered co-operative business development as one of their key themes.
"The Greater Manchester Co-operative Commission has been established by the Greater Manchester Combined Authority (GMCA) to be a driver for developing co-operative activity across the city-region and to explore how co-operative methods can help to solve existing issues facing the city-region.
The Commissioners sit as an independent panel, and will make policy recommendations to ensure that the GMCA is drawing on the benefits that co-operatives can bring to our city-region.
It is anticipated that the Commission will encourage greater collaboration within the co-operative sector and contribute to the achievement of the ambitions of the Greater Manchester Strategy - to make Greater Manchester one of the best places in the world to grow up, get on and grow old - and to be one of the most co-operative places in the UK."
You can submit your own evidence to the commission here. Deadline 1st September 2019.
---
The notes below are the supplementary notes to the verbal and visual presentation to the commission on 19th July 2019.
Supplementary Notes on evidence to Greater Manchester Co-operative Commission
1. The current co-operative development landscape in Greater Manchester - who is delivering what to whom and how is it resourced?
These notes have been compiled in consultation with development advisors working in the Greater Manchester area, from Co-op Culture, Platform 6 Development Co-operative, Co-operative and Mutual Solutions and Adrian Ashton Associates.
There are currently 4 main organisations recognised by Co-operatives UK as Co-operative Development Bodies (CDBs), who operate in the Greater Manchester area:
Seeds for Change and Rhizome Co-op both have members in Greater Manchester and deliver training in decision-making, group process and decentralised organising - all important aspects of co-op development, but hard to get resourced by the support programmes referenced below unless linked to growth.
There is also a new CDB – Platform 6 Development Co-operative, with an international membership but with significant membership in the North of England. This organisation is a platform co-operative community of people and organisations interested in co-operative development. Whilst very active in promoting the co-operative model and peer to peer networking of co-operatives, Platform 6 is not yet delivering co-operative business advice, although its members are.
In addition, there are several sector specific co-operative support organisations:
Quantum Strategy and Technology (2 advisors) based in Lancaster – deliver business support around low carbon sustainable economies, but have extensive experience working with energy co-operatives and low carbon initiatives across Greater Manchester. Also an associate of Co-op Culture.
Student Co-operative Homes – new support organisation for student housing co-ops across the UK.
NW Housing Services (3 advisors) – provide support and back-office services to their housing association members.
Kindling Trust – (2 main key workers) a development charity based in Ancoats, working around food sustainability and "Feeding Manchester" also involved in large scale food waste recycling. Have created several co-operatives as part of their work – Manchester Veg People, a multi-stakeholder co-op of growers and producers and Veg Box People, a worker co-operative and Manchester's fastest growing organic veg. Box scheme. The Kindling Trust are currently looking to create a large peri-urban farm close to Manchester. The Kindling Trust co-ordinate the Stockport Sustainable Food Cities programme.
Co-operatives UK also facilitate peer to peer Co-operative Connections networking events in the region.
Rochdale Stronger Together - a nascent organisation taking a community wealth building approach and looking to boost the local economy of Rochdale through co-operatives and social enterprise. One to watch.
In practice the advisors above deliver to social enterprise and charities as well as co-operatives and deliver across the UK as well as in Greater Manchester. The principal routes through which we can do this are sector-funded programmes (former Co-operative Enterprise Hub, Hive etc). Although there is funding for business support via the LEP, they don't seem to recognise or prioritise co-operatives, so there are no opportunities to amplify the impact of the support infrastructure described in the following section.
Support organisations and support programmes that operate England or UK-wide.
These programmes are available to some GM co-operative projects and support would generally be delivered by one of the CDBs listed above, although CDBs from further afield may deliver where they have a sector specialism of an existing relationship with the project.
Those infrastructure programmes and organisations that may support co-operative development work are:
It is important to note that whilst the above looks to be a significant suite of possible support for development, we should bear in mind that these organisations/programmes may or may not be focussed on co-operative development and are also often competitive. Indeed Power to Change, probably the major player in terms of money and impact is the Power to Change Trust, with a focus on community business, which excludes co-operatives that have no local focus (two postcodes) or who fail to demonstrate community involvement and social impact. Another example would be the More than a Pub programme which would be unable to support a community to buy and run their local unless they could demonstrate more charitable outcomes.
Where there is no funding available to pay for advisor's time, we are faced with the choice of delivering a limited amount of support for free (a significant proportion of our work) or prioritising paid work in the wider VCSE sector.
It is also worth pointing out that even if not as co-op focussed as we might like, that a lot of these programmes look similar in the way that they operate (staged application, allocation of support from framework of screened advisors, ancillary funding for org. supported) because that is what works – any successful GM co-op development programme should have similar features.
---
2. What are the current barriers/challenges to co-operative development?
There is a general lack of awareness of the co-op option amongst:

Those who might start co-operative enterprises.
Community development workers.
Councillors and council officers.
Those who give advice to traditional business start-ups and social enterprise, such as solicitors, accountants, enterprise centres, incubators and colleges. This is particularly acute within the Manchester universities, who are all increasingly seeking to encourage student startup and spin-outs - yet the knowledge of those officers within the universities' enterprise teams doesn't include anything to do with co-operativs (and none of the business schools make any reference to them in their taught syllabus).

Where there is knowledge of the co-operative option, it is often perceived, by those above, that co-ops are hard to set up and run and best avoided.
Where advice around governance, structures and finance is given to co-ops by advisors with a more generic business advice focus and professionals, such as accountants and lawyers, it is often wrong or incomplete.
The lack (and dwindling number) of competent co-operative development advisors.
The lack of funding to pay for co-operative development advice and where such funding exists it often is looking to support more charitable ways of working rather than mutual self-help (see above).
The lack of a pathway to become a co-operative development advisor.
Where there is grass-roots co-op development, it tends to be in either:

more affluent areas, in the case of community asset-based enterprise (although not always); or
more metropolitan areas where there is a concentration of ex-students who are politically motivated to create co-operative enterprise.
The challenge is – how do we catalyse co-operative responses to the very real need for mutual intra-community economic support within more deprived communities. For example – what does a co-operative food bank look like?
Co-op development in more deprived communities requires (i) more time because the people involved often don't have technical business skills (although they might be very entrepreneurial); small seed corn funding because the groups don't have someone who can dip their hands in their own pocket for a few hundred pounds; (iii) co-op stories which come from people like them in communities like theirs – one of the most enduring examples of co-operation in Greater Manchester is the CIU Clubs in working class communities, but who tells their stories?

We don't think that start-up finance is a problem for new co-ops – there is plenty of money out there to be loaned, however the appetite to take on debt finance is low, combined with generally poor financial literacy amongst the general population. The exception is maybe platform co-operatives which often require a significant amount of high-risk capital to develop their platform and build market-share. Where local authorities could add value would be through the provision of lower cost debt finance, through public works loans, possibly combined with equity investments in start up co-operatives in their borough.
---
3. What are the opportunities (with a GM focus of course)?
Addressing the issues above and acknowledging particular interest in sectors such as housing, transport and digital, we would say that the opportunities for GMCA are:
Fund, or work in partnership with existing programmes that can fund co-operative development, particularly that which is excluded from programmes that focus on community business.
Lobby for the LEP to recognise and include the co-op option.
Support "market-making" events to promote the co-op option, showcasing how other communities and individuals have addressed their mutual social and economic needs. These events should also cover the range of options available in terms of organisational models (eg worker, consumer, multi-stakeholder co-ops). This has worked in some cases/places/sectors but not others. It would be good to get some learning if this route is taken.
Combine both a place-based approach and a sector-based approach to these events and any subsequent follow-up activity.
Consider how co-operative providers can be supported to engage with (be favoured in) procurement processes and target co-operative development in areas where there is no co-op procurement option – the Preston model. Link to Social Value Act.
Review how discretionary rate relief works in the GMCA – how does this relate to/treat co-ops?
Consider how GMCA (and associated pension funds?) might invest in co-operative enterprises, providing lower cost debt finance or underwriting community equity investment.
---
In conclusion, we'd like to urge caution on two fronts, based on the experience of co-operative development workers everywhere:
There is a tendency to look for big wins - a co-op equivalent of the sort of impact on a local economy of an Amazon "fulfilment" centre. This requires significant top down intervention unless it is a replication or expansion of an existing large co-op. Also command economy type co-op conversions of existing businesses rarely succeed as the members of the co-op have little experience, empathy or capacity to run them.
The sort of sustainable co-op development we need is grass-roots and an emergent result of building a co-op economy and culture across GM.

There is a second tendency to parachute in well paid consultants who may be full of energy but have no experience of what successful co-operative development looks like. They will talk the talk and tick the boxes but will struggle to deliver real change. We need to work with what is already there and build capacity.
---
In addition to the recommendations above, after listening to the deliberations of the commission, I'd like to make a couple of additional recommendations:
If, as promised recently by Andy Burnham, the commission recommends that GMCA funds co-operative development, then the easiest way to do this might be by creating an additional Greater Manchester focussed strand as part of the existing Manchester-based Hive programme. The infrastructure and expertise is already in place.
There is existing business advice available in Greater Manchester through the EU funded Business Growth Hub. Wouldn't it be great if the "co-op option" was a default option for those seeking advice and the Hub could fund co-operative development advice? How might the commission encourage that?
Mark Simmonds, Platform 6, July 2019
---
You can submit your own evidence to the commission here. Deadline 1st September 2019.